2022 Hunting Season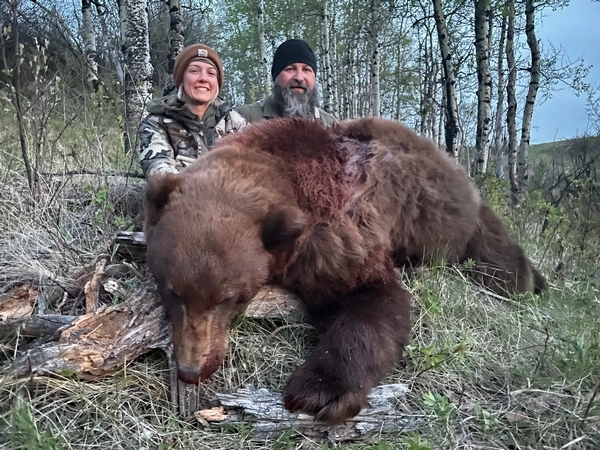 Here we are now in December and another season has come and gone! I am so grateful that in 2022 we were full steam ahead and were able to have our first full season of hunters since 2019, having clients come for both the spring and fall hunts.
Now that the Canadian border has been fully opened with no requirements for entry; no testing, no Arrive Can app or proof of Vaxx status… thank God! With travel getting back to normal we will be headed to a few trade shows again, first to Reno, NV for the Sheep Show Jan. 12-14/2023 and you will find us close to the main entrance in Booth 1635 as well as the Eastern Chapter of Wild Sheep in Lancaster, PA taking place Feb. 17 & 18/2023. Please come by and say hello if you are attending either of these events.
Our spring black bear season fired up in May 2022 and it was great to be back in the hills looking for bears with our clients. Amongst our 12 clients we had four pairs of father/sons which is great so see. Of the 12 hunters we harvested 10 bears and three of them were colour phased. This is a true, fair chase hunt that takes place in an amazing setting, the foothills of the Rockies, and one will see many different species of game during your hunt. A great hunt to experience with a family member or friend.
As summer rolled around we started to prepare for our fall hunts, scouting for deer and getting camps put in for our sheep hunts. Sept. 1st marks opening day for both our archery mule deer and bighorn sheep seasons. The same group of mule deer bowhunters that have been coming with us for the past 10 years showed up in our home camp and by the end of the week all four of them were tagged out on awesome bucks.
The sheep hunts went well with 3 out of 5 hunters tagging out and all of the rams harvested had good age on them. This is a very rigorous hunt that involves a lot of horseback riding and backpacking through some wild country but the rewards are second to none when it all comes together and the client harvests a mature bighorn ram.
Once the sheep hunts wrapped up in early October we headed back home for one more round of archery mule deer hunts prior to our rifle season. Mother Nature called the shots on this bow hunt. The week started with hot temperatures with barely a breath of wind and then later in the week dumped a pile of snow on us. Needless to say neither of these conditions were very conducive to a productive archery hunt and we only harvested one buck for four bowhunters on this week.
Rifle season started Oct. 25 and we had clients coming every week until the last ones left on Nov. 26th. Most of the rifle hunters were return clientele or friends of them. All nine mule deer hunters harvested their bucks and 7 out of 8 whitetail hunters filled their tag.
Now that the world is open for business and travel once again we have seen a huge interest in hunters wanting to travel and book guided hunts. We are fully booked now for all our hunts in 2023 and also have quite a few bookings for 2024. So if you are interested in coming with us for any of the hunts we offer, let me know and I can let you what dates we have available.
Wishing you and your family all a great holiday season and a new year filled with exciting hunts!
Posted in: Uncategorized