Alberta Canada Black Bear Hunting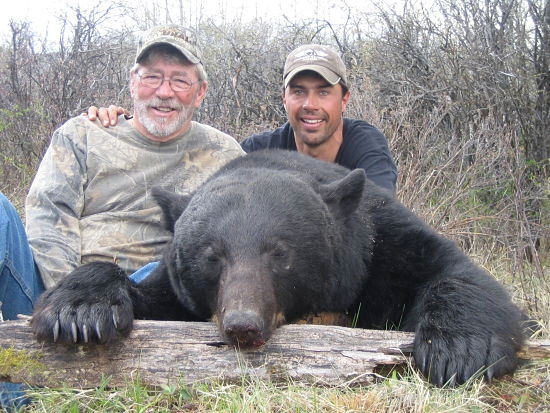 Fair chase, spot & stalk bear hunts!
If you really want to hunt a bear and not just wait for one to show up at a bait come join us on this exciting spot & stalk black bear hunt.
Our spot and stalk black bear hunts take place in the month of May. At this time of year the bear's hide are in prime condition and are rarely rubbed. On this bear hunt we hope to have the hunter hold out for a mature 6 foot plus bear. About 30% of the bears in this area are color phased so you have an excellent chance at harvesting a blonde, cinnamon, brown or black bear.
The hunt will take place in the private ranchland of the foothills. We will access this area using pick-ups and four-wheelers. Hiking will also be required in certain areas to get to a good vantage point to glass and for the final stalk to get within shooting distance. We will be the only outfitter operating in this hunting area during the spring bear hunting season and only take up to 10 hunters per year. This is fair chase hunting at its finest!
We guarantee our tags and no draws are required! Hunters will be limited to one bear in our area.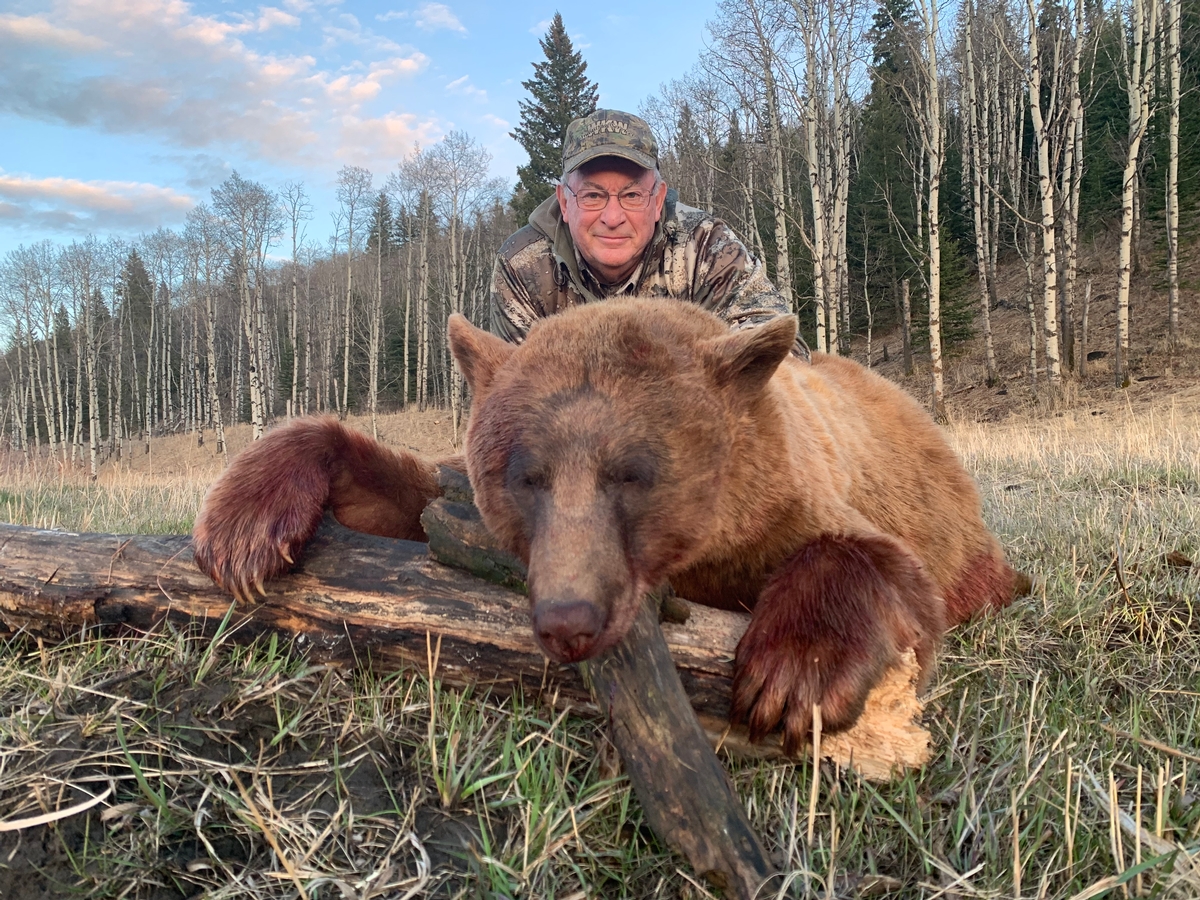 Spot & Stock Bear Hunts
Do you truly want to hunt for a bear? There are a few options when it comes to black bear hunting. One can hunt over bait, use dogs, or spot and stalk. Our spot and stalk spring black bear hunts let the hunter experience what it takes to truly hunt for a mature bear. Crossing paths with him may come on the first day or last day of the hunt but a huge part of the success on these hunts are the efforts one puts forth glassing for these elusive predators. We will hunt during the afternoon and evening when bears are most active, usually getting set up at a good vantage point where we can glass a vast amount of country. There are 30-40% color phased bears in our area with the most common color being a cinnamon phase. There is a one bear limit per hunter.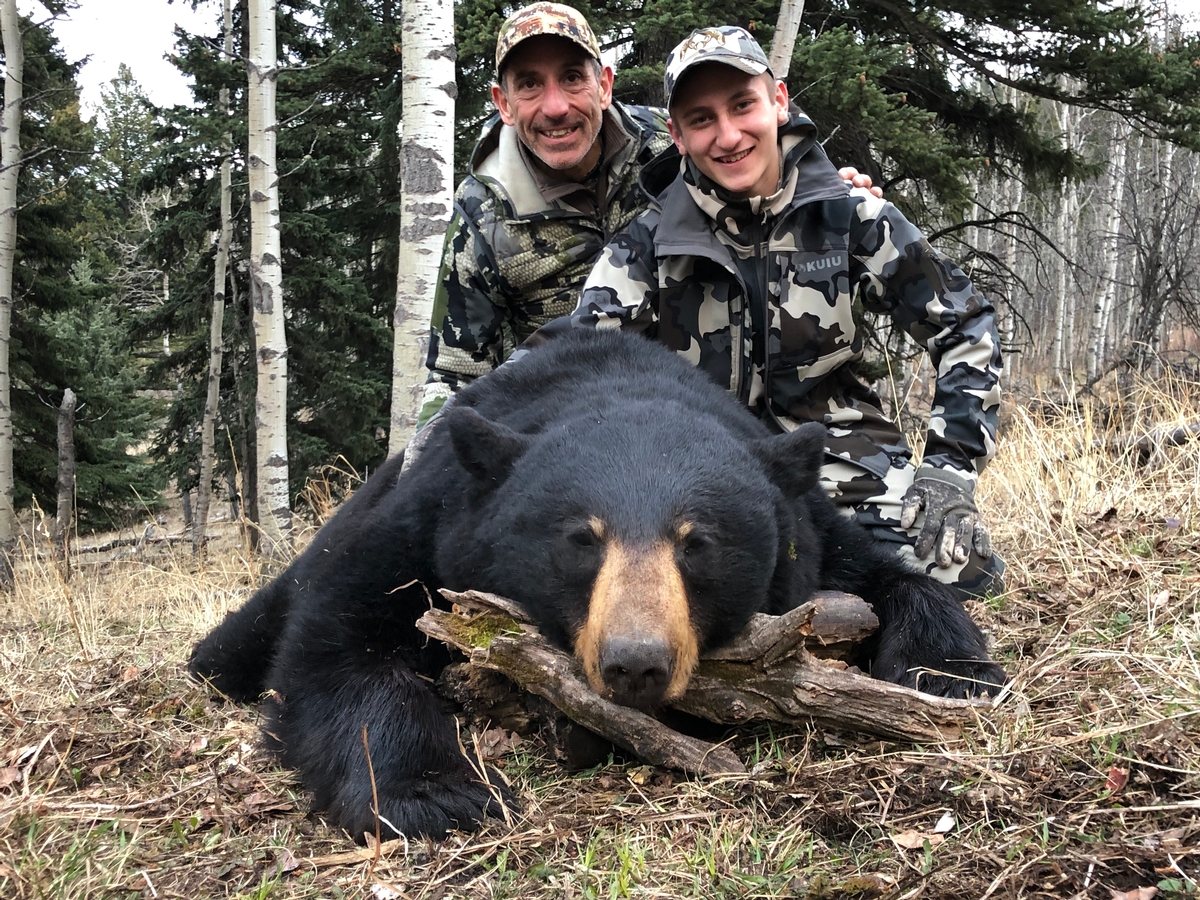 Hunting Terrain
We operate our spring black bear hunts in the foothills of the Rocky Mountains. The Porcupine Hills on the eastern slope of the Rockies is located in southwestern Alberta. This is a game-rich area that is stunningly beautiful, especially in the springtime when the landscape is coming back to life. This area is home to the whitetail, mule deer, elk, moose, cougar, wolf, grizzly and black bear.
The area transitions from rolling grassy hills to timbered ridges, willowed draws and creek bottoms, excellent habitat for bears to roam. This is mainly cattle ranch country and we will be hunting vast amounts of this private ground. The elevation is 4000-5500'.
Level of Fitness
Being in good physical condition is fairly important on this hunt as many of the properties we hunt are foot access only. We can cover 3-4 miles a day to get to different vantage points to capitalize on looking over a lot of country.
Hunting Season & Weather
The black bear season in our area is April 1 - June 15 but typically we hunt in the prime part of the season, from the second week of May until the beginning of June. Temperatures will range from 40-70F (5 to 22C), which could mean wet snow all the way to tee-shirt weather!
Itinerary and Directions
Hunters will fly to the city of Calgary and it is only just over an hour drive south to Nanton, the closest town to us.
Day 1 - Arrive in Calgary
Day 2- pick up from Calgary and start hunt that afternoon.
Day 3-8 - remaining hunt days (total 7 hunt days)
Day 9 - return to Calgary usually around noon
Spot & Stalk Black Bear Hunts Gallery