Alberta Canada Black Bear Hunting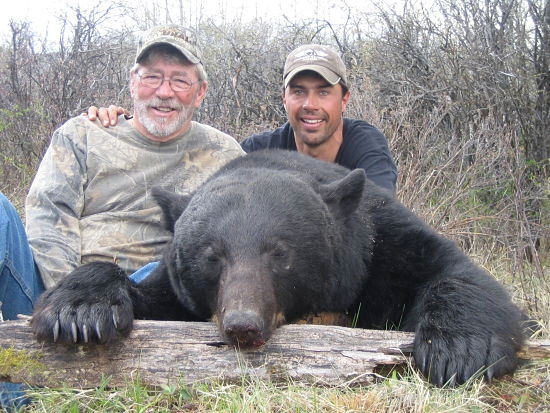 Fair chase, spot & stalk bear hunts!
If you really want to hunt a bear and not just wait for one to show up at a bait come join us on this exciting spot & stalk black bear hunt.
Our spot and stalk black bear hunts take place in the month of May. At this time of year the bear's hide are in prime condition and are rarely rubbed. On this bear hunt we hope to have the hunter hold out for a mature 6 foot plus bear. About 30% of the bears in this area are color phased so you have an excellent chance at harvesting a blonde, cinnamon, brown or black bear.
The hunt will take place in the private ranchland of the foothills. We will access this area using pick-ups and four-wheelers. Hiking will also be required in certain areas to get to a good vantage point to glass and for the final stalk to get within shooting distance. We will be the only outfitter operating in this hunting area during the spring bear hunting season and only take up to 10 hunters per year. This is fair chase hunting at its finest!
We guarantee our tags and no draws are required! Hunters will be limited to one bear in our area.
Spot & Stalk Black Bear Hunts Gallery