Alberta Canada Whitetail Deer Hunting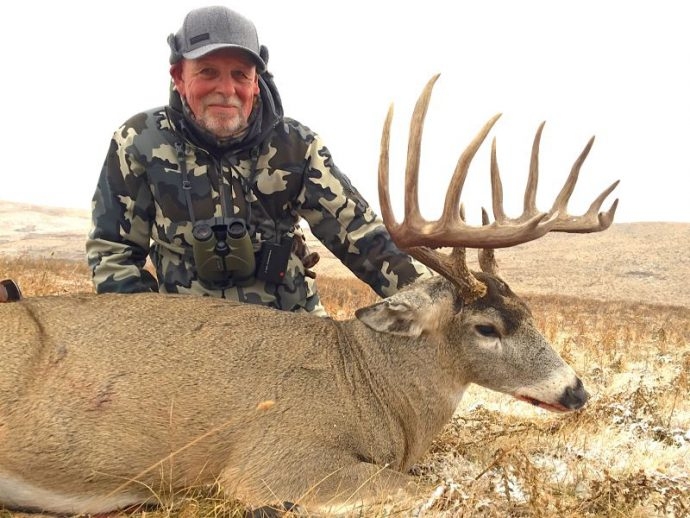 Join us for an Alberta, spot and stalk whitetail deer hunt!
For many years Alberta has been known to produce great whitetail bucks.
Whitetails have flourished in this area calling the thick willow and poplar patches of our foothills home. This spot and stalk whitetail deer hunt will take place in November during the heat of the rut. A hunter has the best chance at finding a mature buck during this time. The average whitetail a hunter can expect to harvest will range from 125"-150". An opportunity at a larger buck is quite possible due to the intense rutting activity when the really mature bucks appear in search of hot does.
For those who can remain patient in their pursuit of a mature whitetail deer, the odds of connecting are excellent!
We guarantee our tags and no draws are required!
Spot & Stalk Whitetail Hunting
When most people think of whitetail hunting they think of long hours spent in a tree stand or ground blind watching over a field or a pile of bait. Here in southwestern Alberta we hunt whitetail spot and stalk style, just like the rest of our hunts. Weather you are a western hunter that loves this type of hunting or someone who hunts them from a stand and wants to try a new, exciting way to pursue these wary animals, this is the hunt for you. We position
ourselves on good vantage points overlooking vast amounts of landscape where the whitetail here call home. With the aid of good quality optics and some patience, we glass until a desired buck is found and close the distance to get within shooting range. At this time of year, the heat of the rut, the mature bucks have let their guard down during daylight hours in their search of hot does. We will be there waiting for them to make a mistake so come join us!
Hunting Terrain
We operate our whitetail deer hunts in the foothills of the Rocky Mountains. The Porcupine Hills on the eastern slope of the Rockies is located in southwestern Alberta. This is a game-rich area that is stunningly beautiful. This area is home to the whitetail, mule deer, elk, moose, cougar, wolf, grizzly and black bear.
The area transitions from rolling grassy hills to timbered ridges, willowed draws and creek bottoms, excellent habitat for whitetails to roam and reach maturity. This is mainly cattle ranch country and we will be hunting vast amounts of this private ground. The elevation is 4000-5500'.
Level of Fitness
Being in good physical condition is fairly important on this hunt as many of the properties we hunt are foot access only. We can cover 3-4 miles a day to get to different vantage points to capitalize on looking over a lot of country.
Hunting Season & Weather
The whitetail rifle season in our area is Oct. 25 to Nov. 30 but typically we hunt in the prime part of the season, during the rut, from the second week of November through the end of the month. Temperatures will range from -10 to 50F (-25 to 10C).
Hunt Itinerary
Hunters will fly to the city of Calgary and it is only just over an hour drive south to Nanton, the closest town to us.
Day 1 - Arrive in Calgary
Day 2- pick up from Calgary early afternoon.
Day 3-8 - hunt days (total 5.5 hunt days)
Day 8 - return to Calgary after the morning hunt if needed
Whitetail Deer Hunting Gallery