Alberta Canada Mule Deer Bowhunting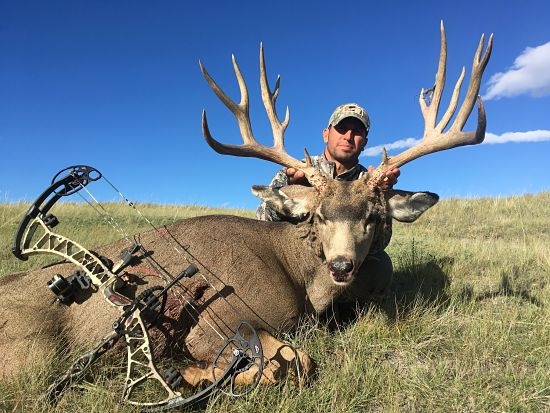 A truly exciting bowhunting adventure!
If you want to hunt big, mature mule deer join us on a spot & stalk archery mule deer bowhunting adventure. These challenging mule deer bow hunts are a great experience you will not soon forget!
Archery mule deer bow hunts take place in a mixture of agricultural crop and native grass country in the prairie and foothills of southwestern Alberta. Mule deer have flourished in this area because Alberta resident rifle hunters have to draw tags. Because of this management program, the habitat and mild weather, many deer are able to grow to a mature age.
Our archery mule deer bowhunts take place in October. Bowhunting season allows our archery hunters an opportunity at undisturbed deer. Our usual bowhunting method is to wait for bucks to bed down, get the wind in our favour, and make a stalk that will get us within bow range. Average shots are between 30 - 40 yards and bow hunters will have a great opportunity at solid Pope & Young class mule deer from 150" to 190" plus range.
We have guaranteed tags and no draws are required!
2019 Archery Mule Deer Hunts Gallery