2019 Hunting Season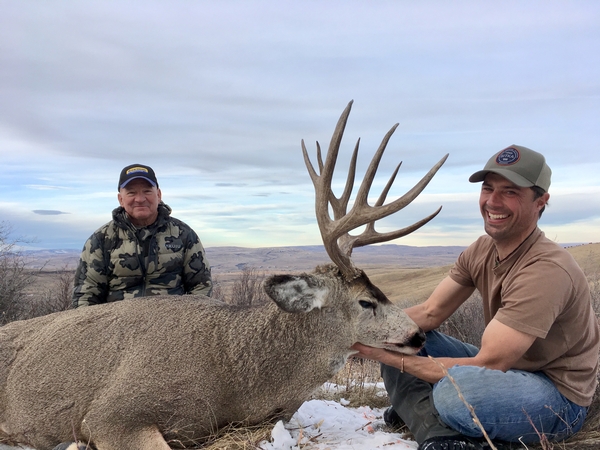 The first hunters of the season arrived in early May for our spot and stalk black bear hunts. Serge Girard, who had joined us in 2018 for mule deer, brought his nephew Alexis Nolin out to Alberta for his first western hunt. Alexis got his first bear, a nice black boar with a thick coat. On the same week Bill Walden harvested a nice cinnamon boar. Val Adams unfortunately did not take a bear in the spring of 2018 but his luck turned and his paths crossed with a beautiful chocolate bear. We were able to get clients Ben Mangus, Morgan Arsenault, and Angel Luis their first bears as well which is great to experience for everyone in camp
As summer rolled around we prepared for the upcoming fall season for bighorn sheep in the mountains and our fall deer hunts. With the good moisture, antler growth was quite exceptional. Bow season had great results, with all eight of our bowhunters getting at least one shot opportunity and six of them harvested nice bucks. Please see our 2019 Bow Report for more details.
Sheep hunts went well considering a couple of our hunters had to leave their hunt before the halfway point which was a bit disappointing as we had some great weather to hunt in. Jeremy Tripp got a dandy ram on the fourth day of his hunt and Doug Hartzler a few days later completed his quest to take all four North American sheep with a super, full curl ram. Congrats guys on a great accomplishment.
With a full slate of rifle deer hunters lined out, myself and our guides had deer patterned and hunting permissions taken care of. Our ten mule deer hunters all harvest bucks with Earl Cummings being the lucky one to take the best buck of the lot with a dandy deer that taped out at 192".
Six of our eight whitetail hunters harvested deer which turned out to be pretty good as we did have some warmer weather earlier in the season that slowed down deer activity
Once again we feel blessed to be able to outfit for a living and truly appreciate our clients that make this lifestyle a reality and thanks to all our crew that help us to get it done!
Hope to see you here in the future for a fair chase hunt in Alberta!
Posted in: Uncategorized